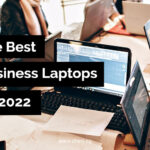 One of the critical business decisions you can make is picking the best business laptops. The right laptops can help improve productivity, whether you are working on-premise or remotely. Many features make a laptop great and we have chosen these laptops with great features to help you get started in the decision-making:
Best Business Laptop Overall

Lenovo ThinkPad X1 Carbon Series

The ThinkPad X1 Carbon Laptop delivers superb mobile performance with long-lasting battery life, best-in-class connectivity, and rapid charging technology. Enjoy advanced security options, enhanced audio, and amazing displays. This legendary laptop combines exquisite detail, durability, and power to create the ultimate premium performance.
---
Best Mac for Business

Apple MacBook Pro 14-Inch

The 14-inch MacBook Pro is far more capable than consumer-class alternatives, yet much less expensive than its 16-inch sibling and bulkier Windows workstations.

Best 2-in-1 Convertible Business Laptop

Lenovo ThinkPad X1 Yoga Gen 6

The ThinkPad X1 Yoga Gen 6's spacious 16:10 screen, predictably solid inputs, and all-around excellence make it a top premium business convertible.
Best Laptop for Enterprise Fleets

Dell Latitude 7420

Highly customizable and sporting an attractive carbon-fiber chassis, the Dell Latitude 7420 is the new favorite ultraportable for businesses.

Best Small/Medium Business Laptop

Lenovo ThinkBook 14s Yoga

Lenovo's 14-inch ThinkBook Yoga competes with convertible laptops costing hundreds more. Excellent productivity performance and battery life.
Did You Know? While Lenovo ThinkPads are elite systems for enterprise execs, Lenovo ThinkBooks are more affordable machines intended for small businesses. In other words, if you want a 14-inch convertible and can't swing a ThinkPad X1 Yoga, you'll find the ThinkBook 14s Yoga a fine alternative.
Best Rugged Laptop

Getac B360

The Getac B360 is a winner among rugged laptops for providing full protection in a relatively compact package, a display that works indoors and out, hot-swappable batteries, and a best-in-class warranty.

Best Budget Workstation Laptop

HP ZBook Firefly 15 G8

HP's slim ZBook Firefly 15 G8 is a compelling mobile workstation for professionals and creators with 2D and mild 3D needs. Sharp 4K screen, Thin and light design, Impressive battery life, Top-notch input devices, and speakers.